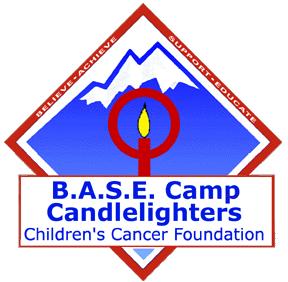 B.A.S.E. Camp Childrens Cancer Foundation is a non-profit 501 (c) 3. Our mission is to provide a year round base of support for children and families facing the challenge of living with Cancer. Unlike once in a life time organizations B.A.S.E. Camp makes a difference in childrens lives on a regular Basis. Our programs focus on "being normal," participating in peer groups that children who are not affected by life challenging illnesses take for granted. B.A.S.E. Camp Childrens Cancer Foundation has recently affiliated with The Candlelighters Childhood Cancer Foundation and its 43,000 members.

B.A.S.E. Camp has a two fold meaning; First it is an acronym for Believe, Achieve, Support, and Educate; Second it symbolizes the encampment that is set up at the base of a mountain that is about to be climbed. We feel that Cancer, AIDS/HIV, Sickle Cell Anemia, Hemophilia and other rare/orphan hematology diseases are just such mountains in childrens lives. Our members are patients, mothers, fathers, brothers, sisters, sons and daughters. To learn more about our organization and the wonderful programs that we offer visit us on the web at www.basecampccf.org. (Click on the above logo)

Until such time as a cure is found for cancer the demand for our programs will continue to grow. Our resources are continually stretched. We rely on donations to fund our work. One of the easiest ways for you to help the foundation is through the donation of your clean and wearable unwanted clothing. The sale of this clothing helps us fund the programs that we offer. Your donation is tax deductible! Service is currently available in New Jersey, and Staten Island, New York. For a convenient Free home pick up please call toll free 1-866-227-3223. Service is available year round.